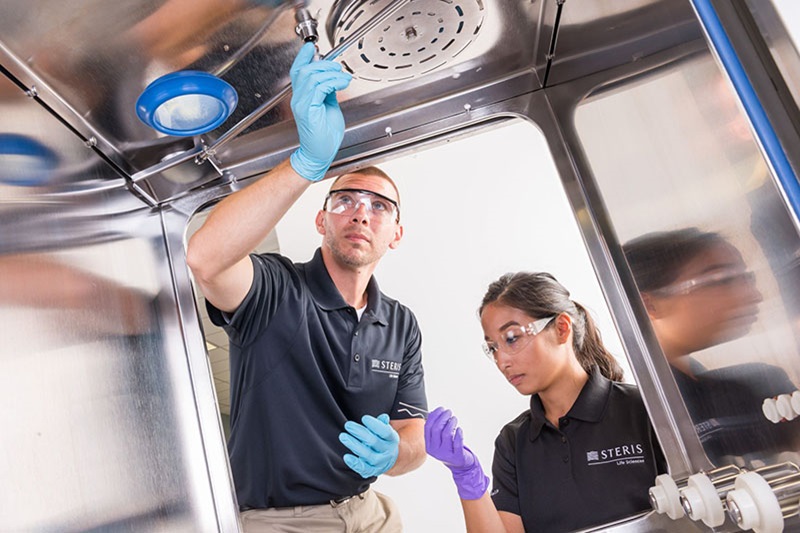 Need Help?
We'll connect you with a solution expert who can help you evaluate and select the right services.
Contact Us Today
Equipment Maintenance Services
When risk is not an option, trust STERIS to protect and maintain your equipment with one of our flexible service plans.
Your business is unique and we offer a variety of service options that can be customized to meet your specific needs. With equipment service plans to serve all of your repair and maintenance needs and single services available 24/7, you can count on STERIS as your trusted service partner for any situation. Our global network of field service experts will collaborate directly with your local team to ensure your needs are met.
With the purchase of any of our equipment service plans, you will also receive:
24/7/365 Customer Service providing answers to your most critical questions
Access to over 90,000 authentic OEM parts for maintenance, upgrades and repairs
Service from a global team of technicians trained to the latest factory standards
Equipment maintenance services are available for all STERIS equipment, including:
Washing
Sterilization
Water Purification
Equipment Maintenance Plans
Comprehensive Service
Minimize downtime and protect your equipment with a cost-effective comprehensive service plan. A complete maintenance and repair package, the comprehensive service plan meets OEM recommended maintenance and safety standards.
Coverage includes:
Scheduled preventive maintenance labor and parts
Unscheduled repair labor
OEM replacement parts
Preventive Maintenance Service
Your equipment plays a key role in your ability to drive innovation and overall success in your industry. To help maximize your uptime, STERIS recommends conducting scheduled preventive maintenance (PM) to proactively replace parts that tend to wear during normal equipment operation.
A PM service agreement follows OEM recommended preventive maintenance guidance customized for your equipment. Your STERIS Field Service Representative manages your preventive maintenance schedule, orders parts and performs all necessary labor for each scheduled service visit.
In addition to service plans, STERIS also offers preventive maintenance parts packages. These packages contain the parts recommended for routine replacement and are designed to ensure your equipment is operating as it should. Whether you have an in-house team performing your maintenance or your application needs to resume as quickly as possible, preventive maintenance parts packs can reduce your downtime.
Labor Only Service
A Labor Only service plan helps keep your equipment up and running by providing the labor required for scheduled preventive maintenance service visits and covers labor for unscheduled equipment repairs.
When replacement parts are needed, STERIS Field Service Representatives and technical support teams are available to help you identify and order the parts you need. You can also leverage our online library of illustrated parts breakdowns to identify and order your parts by visiting the Shop STERIS website.
Service Plan Coverage Options

Equipment Maintenance Services
NIST-Traceable Calibration Services
Calibration is an essential part of equipment maintenance. STERIS offers calibration agreements to help your equipment maintain optimal performance over its entire lifecycle. All calibration services are fully NIST-traceable.
Calibration services can be performed on your STERIS equipment, including:
Steam sterilizers
Laboratory and GMP washers and dryers
Low temperature biodecontamination equipment
Generators and water stills
Repair and Maintenance Services
Repair and other equipment maintenance services are also available when you need them with no service plan required. From routine maintenance to emergency repairs to specialty services, STERIS has the expertise and resources to perform the services you need when you need them.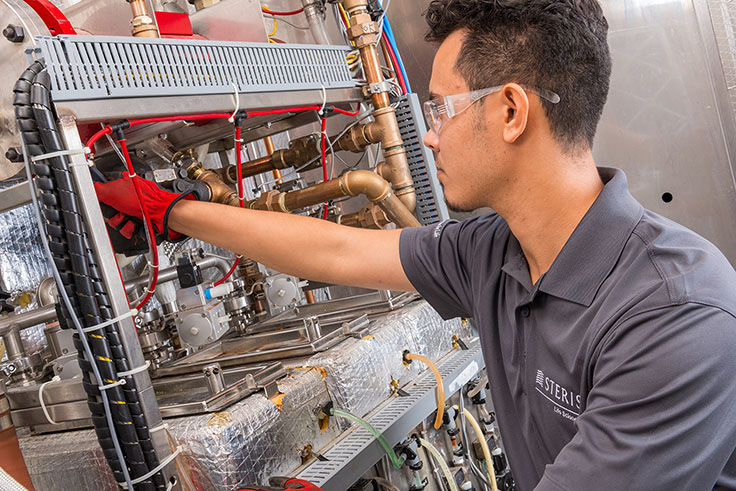 Downloadable Resources:
Installation and Qualification Services
STERIS has a deep understanding of the equipment, knowledge of operational specifications and engineering support.
Learn More
Upgrades and Specialty Services
Boost the performance of your older equipment by upgrading key components with the latest technology.
Learn More