Personnel are typically the primary source of contamination in cleanrooms. This is true at pharmaceutical, biotechnology, cosmetic, nutraceutical and medical device facilities as well as university, government and animal research laboratories.
By routinely treating gloves, personnel can help prevent the transfer of contaminants onto critical surfaces. Here are a few ways to optimize procedures for protecting gloves.
Avoid Glove Contamination to Reduce Cleaning Frequency
It sounds simple, but gloves won't need to be treated as frequently if they're not exposed to contaminants. It's important to have appropriate procedures for material and personnel transfer into cleanroom environments.
Sterile, double-bagged products with minimal particles can easily be transferred into controlled environments and aseptic areas without contaminating gloves.
Create Easy-to-Follow Glove Treatment Protocols
Even when they follow the best cleanroom cleaning procedures and aseptic techniques, personnel who perform critical activities need to protect their gloves to prevent contamination from bacteria.
Treating gloves with the proper agent can help personnel who need to carry out aseptic practices. However, the agent itself is not a replacement for poor aseptic technique. That's why it's important to create procedures that are easy to understand and execute.
There are four key variables which affect glove protection. When developing protocols, be specific and include:
How frequently to treat gloves
Proper techniques to apply, agitate and rub the agent onto the gloves
Which agent to use and the proper amount
Criteria for glove replacement
Treat Gloves with the Right Products
Traditional hand sanitizers are not recommended for glove decontamination. That's because hand sanitizers contain emollients to protect skin, which leave a residue on disposable gloves. To avoid introducing contaminants, it's important to use sterile products that evaporate quickly and completely so they don't leave residue on gloves.
The optimal concentration for ethanol and for isopropanol solutions is approximately 70% v/v.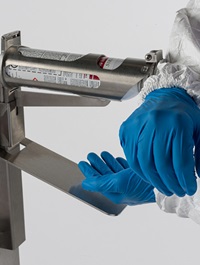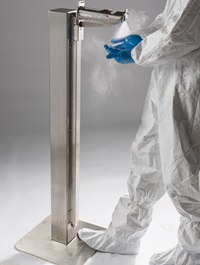 Touchless (Foot or Elbow Operated)
Manual (Trigger Sprays or Aerosols)