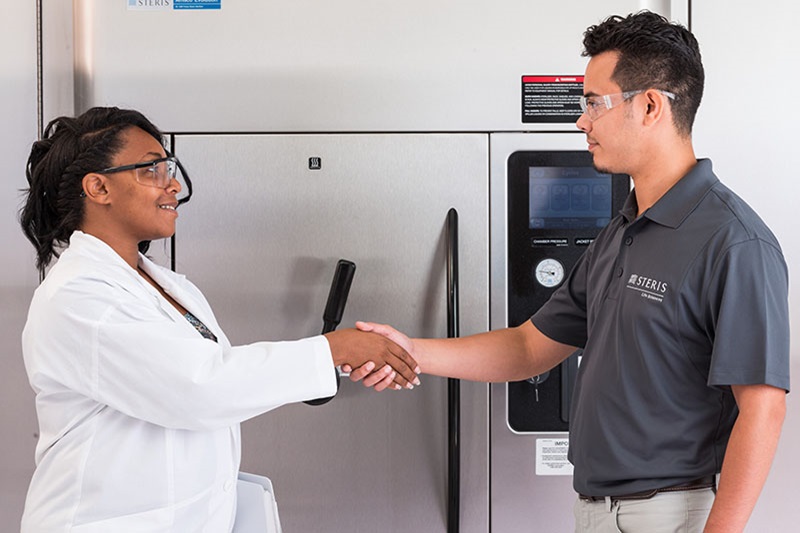 Need Help?
We'll connect you with a solution expert who can help you evaluate and select the right services.
Contact Us Today
Specialty Equipment Services and Upgrades
Let us help improve the performance of your equipment with our selection of specialty services and equipment upgrades.
Specialty Equipment Services
The ongoing performance of your equipment is integral to your success. Performed by our global network of trained specialists, specialty equipment services from STERIS can be utilized at any point during your equipment's lifecycle to enhance performance. Available around the globe and 24/7, you can trust that STERIS has the technical expertise to perform the services you need where and when you need us.
Heat Distribution Testing Service
Maintain your sterilizer's operation and accuracy with an empty chamber heat distribution test from STERIS. These tests identify any areas with temperature deviations or that are slow-to-heat. Whether you're validating your equipment, replacing a process control instrument, or want to ensure your sterilizer is functioning properly, this test optimizes your sterilizer's cycle time.
We will customize your service to ensure it meets your specifications. At the conclusion of your testing, you will receive a final report containing:
Interpreted information about data collected
Calibration certificates for the equipment
Graphs and charts for each qualification cycle
Your heat distribution testing service also includes a full NIST-traceable calibration.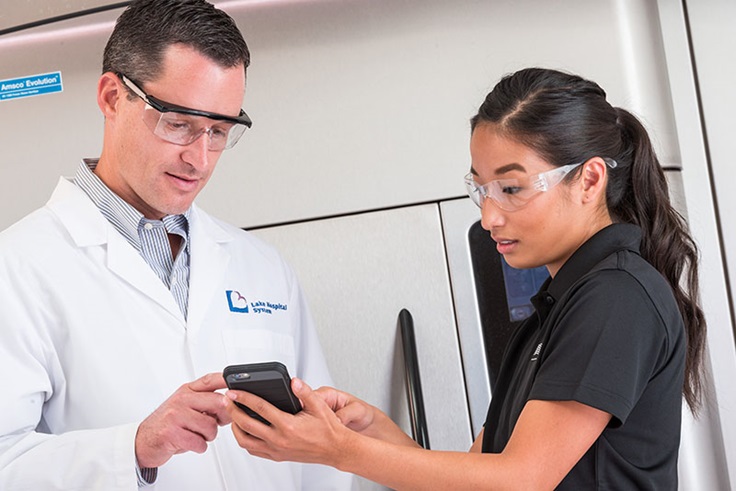 NIST-Traceable Calibration Services
Calibration is an essential part of equipment maintenance. STERIS offers NIST calibration procedures to your equipment's specific needs over its entire lifecycle. Performed by specially trained, field-based technicians, all calibration tests are fully traceable and detailed in a complete report kept on file with STERIS for a minimum of three years.
Calibration services can be performed on all of your STERIS equipment, including:
Steam sterilizers
Laboratory and GMP washers and dryers
VHP equipment
Finn-Aqua products
Performance Inspection
Improve the performance and extend the life of your equipment with a Performance Inspection from STERIS. With a thorough inspection of your equipment performed to the original manufacturer's specifications, a detailed Performance Inspection field report, and personalized recommendations for continued or improved equipment performance, you can be sure that a Performance Inspection from STERIS will help keep your equipment in optimal operating condition.
Your final report will include detailed recommendations to help maximize your equipment's performance, including:
Replacement parts
Preventive maintenance packages
Technology upgrades
Spare parts stocking strategies
Steam Quality Testing Service
Stay compliant with international standards HTM0101 and EN285 by testing your autoclave's steam quality. Whether your company or your specific products are required to meet international standards for steam sterilization, steam quality testing will verify if you are yielding proper results.
Steam quality testing consists of three tests – steam dryness, steam superheat and non-condensable gas. Our expert team of service technicians performs each test using documented procedures based on international standards, and each series of tests is performed three times to verify repeatable results. Testing can be performed over either one day or three days, depending on your needs.
Upgrades
Upgrading your sterilization or decontamination equipment can prolong its lifespan, improve performance and increase functionality. Maintain efficiency and return your equipment to peak performance with an upgrade to one of your equipment's commonly used components.
We offer a wide variety of upgrades for your equipment, including:
Washers & Dryer
Control and Display System Upgrades
Printer Upgrades
Water Conservation Control Upgrades
Reliance 400/500XLS HMI and Software Upgrade
Sterilizers
Control and Display System Upgrades
Steam Control Upgrades
Water Conservation Control Upgrades
Steam Generator Upgrades
Insulation Kits
Water Conditioning and Descaling Upgrades
AMSCO 3000 Control System Upgrades
VHP Equipment
Control and Display System Upgrades
Printer Upgrades
Injection Pump Upgrades
Humidity Probe Upgrades
Finn-Aqua Equipment
Control and Display System Upgrades
Steam Control Upgrades
Water Conservation Control Upgrades
Steam Generator Upgrades
Sight Glass Upgrades
Looking for something not listed here? Contact your STERIS representative to see how we can help you upgrade your equipment today.
Downloadable Resources:
Equipment Maintenance Services
When risk is not an option, trust STERIS to protect and maintain your equipment.
Learn More
Equipment Maintenance Training
Let STERIS show you how to get the most out of your equipment.
Learn More