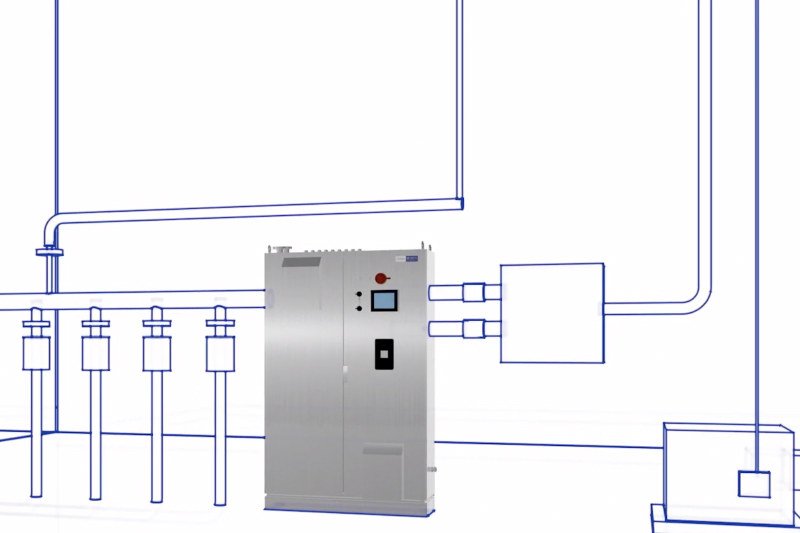 Need Help?
We'll connect you with a solution expert who can help you evaluate and select the right services.
Contact Us Today
Integrated VHP
An all-inclusive

biodecontamination

system integrated into your facility.
STERIS VHP is an effective bio-decontamination solution to achieve a repeatable 6-log bioburden reduction on a broad range of materials in both pharmaceutical manufacturing and research environments.
How VHP Integrated Systems Work
STERIS integrated vaporized hydrogen peroxide (VHP) systems can decontaminate large spaces easily and automatically, minimizing disruption to production areas and making frequent decontamination possible.
Unlike traditional gas sterilization methods, VHP is a dry small vapor molecule that doesn't leave residue on surfaces, providing a broad range of material compatibilityincluding sensitive electronics such as laptops and laboratory equipment. VHP can decontaminate every surface in a room, building or enclosure, achieving a repeatable 6 log bioburden reduction.
This dry, low temperature sterilization process has four phases:
Dehumidification
Humidity is removed from the space to ensure that a true, dry biodecontamination process is achieved.
Conditioning
Vaprox is rapidly injected by the generator and converted into a dry vapor that quickly raises the level of hydrogen peroxide to an effective concentration.
Biodecontamination
VHP concentration is maintained at the target concentration level to provide an effective kill of microorganisms in the space.
Aeration
The generator stops injecting Vaprox and accelerates the breakdown of vapor into its environmentally friendly base elements of water vapor and oxygen until hydrogen peroxide is reduced to an acceptable level for use.
Why Choose VHP Integrated Systems?
STERIS VHP integrated systems are a simple, easy and effective way to make routine decontamination a reality in your facility.
Increased Productivity
After setup, VHP integrated systems require little to no labor, saving your facility time and money. With the push of a button, cleanrooms, production filling line isolators, and even pass-through chambers are decontaminated.
Ensure Quality Every Time
With an integrated system, you'll reduce the possibility for human error that comes with a manual decontamination process. The STERIS integrated VHP system achieves a validated and repeatable 6 log bioburden reduction.
Automated When and Where You Need It
With an integrated system, teams and facilities have the ability to pre-program cycles, zones and schedules, allowing rooms to be automatically decontaminated individually or in zone groupings, reducing the need for manual cleaning or mobile units.
Access to STERIS Support
With a VHP integrated system, you'll receive access to the dedicated STERIS VHP support team for facility integration and technical support.
STERIS Integrated VHP Systems
Unsure of which integrated VHP system is right for your facility? Contact us for a free facility assessment where our trusted experts will work with your team to determine a solution based on your facility's unique requirements.
Discover your unique decontamination solution today.
Contact our VHP team to see how STERIS VHP integrated systems and services can meet your facility needs.
Contact Us